From our private database of 30,500+ case briefs...
Warner Bros. Entertainment, Inc. v. RDR Books
United States District Court for the Southern District of New York
575 F.Supp. 2d 513 (S.D.N.Y. 2008), 375 F. Supp. 2d 513 (2008)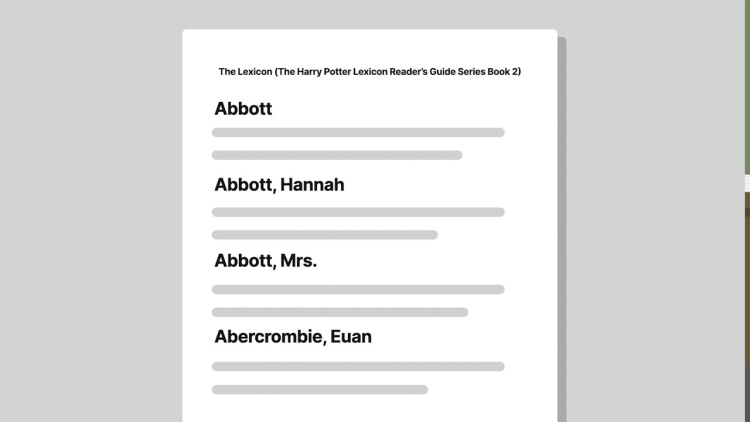 Facts
J.K. Rowling (plaintiff) wrote seven books in the Harry Potter series, which follows Harry Potter and his friends through a fictional magical world. To bring the magical world to life, Rowling created many characters, places, and ideas. Rowling said in public interviews that she intended to create an encyclopedia for the Harry Potter series after the seventh and final book was published. The Harry Potter series was hugely successful internationally, and Warner Brothers Entertainment, Incorporation (Warner Bros.) (plaintiff) bought the movie rights. Soon after the first Harry Potter book was published in the United States, Steven Vander Ark (defendant) began work on a website to act as a resource for Harry Potter readers to use to keep track of the books' details. The website, called the Lexicon, was initially published in 2000 and was meticulously updated and maintained as new books were released. In 2007, the president of RDR Books (RDR) (defendant) approached Vander Ark about turning the content of his website into a book. The book version of the Lexicon had entries, in alphabetical order, for the characters, places, and other magical things in the Harry Potter book series. Many of the entries either directly quoted or closely paraphrased descriptions in the books. Only some of the quotes had quotation marks. Warner Bros. and Rowling sued RDR and Vander Ark for copyright infringement prior to publication of the Lexicon.
Rule of Law
Issue
Holding and Reasoning

(Patterson, J.)
What to do next…
Unlock this case brief with a free (no-commitment) trial membership of Quimbee.

You'll be in good company: Quimbee is one of the most widely used and trusted sites for law students, serving more than 551,000 law students since 2011. Some law schools—such as Yale, Berkeley, and Northwestern—even subscribe directly to Quimbee for all their law students.

Unlock this case brief

Read our student testimonials

Learn more about Quimbee's unique (and proven) approach to achieving great grades at law school.

Quimbee is a company hell-bent on one thing: helping you get an "A" in every course you take in law school, so you can graduate at the top of your class and get a high-paying law job. We're not just a study aid for law students; we're the study aid for law students.

Learn about our approach

Read more about Quimbee
Here's why 551,000 law students have relied on our case briefs:
Written by law professors and practitioners, not other law students. 30,500 briefs, keyed to 984 casebooks. Top-notch customer support.
The right amount of information, includes the facts, issues, rule of law, holding and reasoning, and any concurrences and dissents.
Access in your classes, works on your mobile and tablet. Massive library of related video lessons and high quality multiple-choice questions.
Easy to use, uniform format for every case brief. Written in plain English, not in legalese. Our briefs summarize and simplify; they don't just repeat the court's language.