From our private database of 30,900+ case briefs...
Williams v. United States
United States Court of Appeals for the Fourth Circuit
242 F.3d 169 (2001)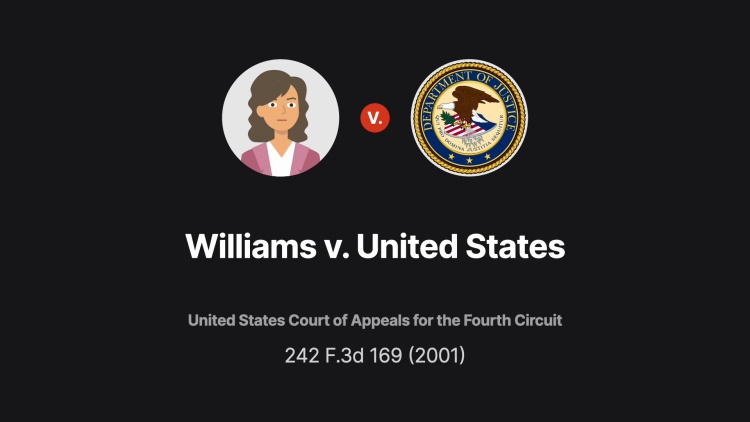 Facts
Berlie White went to the emergency room due to respiratory problems at the Cherokee Indian Hospital (CIH), located on the Cherokee Reservation and operated by the United States Public Health Service (US PHS). The hospital was funded under the federal Indian Health Care Improvement Act that prohibited the hospital from treating non-Indians, except for emergency medical treatment in which treatment became discretionary. Federal employees at CIH refused to treat White or refill his oxygen tank because he was a non-Indian. They referred White to the Swain County Hospital, which was 10 miles away. When White arrived at Swain County Hospital he was in severe respiratory distress and died. Williams, the adminstratix for White (plaintiff), filed a complaint alleging that the USPHS run CIH (defendant) caused his death by refusing to provide access to any treatment. The United States filed a motion to dismiss the action, as well as other asserted claims. The district court dismissed the suit. Williams appealed to the court of appeals.
Rule of Law
Issue
Holding and Reasoning

(Niemeyer, J.)
What to do next…
Unlock this case brief with a free (no-commitment) trial membership of Quimbee.

You'll be in good company: Quimbee is one of the most widely used and trusted sites for law students, serving more than 553,000 law students since 2011. Some law schools—such as Yale, Berkeley, and Northwestern—even subscribe directly to Quimbee for all their law students.

Unlock this case brief

Read our student testimonials

Learn more about Quimbee's unique (and proven) approach to achieving great grades at law school.

Quimbee is a company hell-bent on one thing: helping you get an "A" in every course you take in law school, so you can graduate at the top of your class and get a high-paying law job. We're not just a study aid for law students; we're the study aid for law students.

Learn about our approach

Read more about Quimbee
Here's why 553,000 law students have relied on our case briefs:
Written by law professors and practitioners, not other law students. 30,900 briefs, keyed to 984 casebooks. Top-notch customer support.
The right amount of information, includes the facts, issues, rule of law, holding and reasoning, and any concurrences and dissents.
Access in your classes, works on your mobile and tablet. Massive library of related video lessons and high quality multiple-choice questions.
Easy to use, uniform format for every case brief. Written in plain English, not in legalese. Our briefs summarize and simplify; they don't just repeat the court's language.