From our private database of 22,300+ case briefs...
Winter v. Natural Resources Defense Council, Inc.
United States Supreme Court
555 U.S. 7 (2008)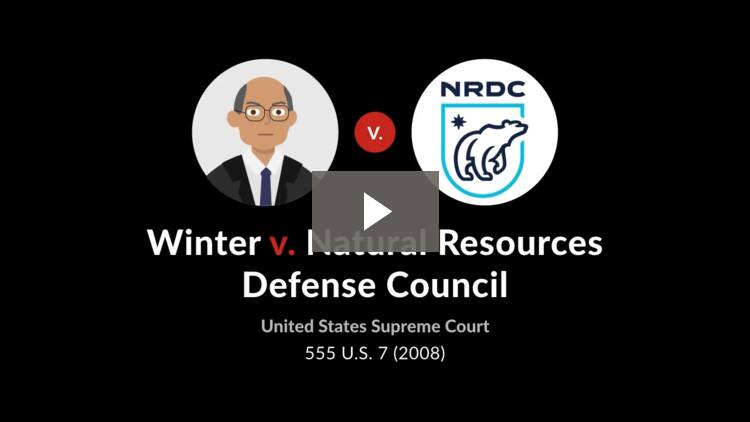 Facts
The Marine Mammal Protection Act of 1972 (MMPA) generally prohibits any individual from harassing, hunting, capturing, or killing a marine mammal. The U.S. Secretary of Defense may "exempt" any action from the MMPA if such acts are necessary for the national defense, including naval training exercises. The Secretary of Defense granted the U.S. Navy a two-year exemption from the MMPA for the training exercises off the coast of Southern California. Under the National Environmental Policy Act of 1969 (NEPA), federal agencies must prepare an environmental impact statement (EIS) for "every . . . major Federal actio[n] significantly affecting the quality of the human environment." 42 U.S.C. § 4332(2)(C). However, an EIS is not necessary if an agency issues an environmental assessment (EA) that concludes the proposed action will not have a significant impact on the environment. In February 2007, the Navy released its EA regarding the training exercises. The National Resources Defense Council, Inc. (NRDC), Jean-Michael Cousteau, an environmentalist and filmmaker, and several other environmental groups (collectively Plaintiffs), filed suit in federal district court against Donald Winter, Secretary of the U.S. Navy (the Navy) (defendant) alleging that the Navy's use of mid-frequency active (MFA) sonar during its training programs harmed marine life off the coast of Southern California in violation of several federal laws. Plaintiffs argued that the Navy should have prepared an EIS prior to commencing the training exercises. The district court agreed and granted Plaintiffs' motion for a preliminary injunction prohibiting the Navy from using MFA sonar during subsequent exercises unless the Navy reduced the sonar's power under some conditions and shut the sonar down within a set distance from a marine mammal. The Navy appealed. The court of appeals affirmed, and the U.S. Supreme Court granted certiorari to review.
Rule of Law
Issue
Holding and Reasoning

(Roberts, C.J.)
Dissent
(Ginsburg, J.)
What to do next…
Unlock this case brief with a free (no-commitment) trial membership of Quimbee.

You'll be in good company: Quimbee is one of the most widely used and trusted sites for law students, serving more than 517,000 law students since 2011. Some law schools—such as Yale, Berkeley, and Northwestern—even subscribe directly to Quimbee for all their law students.

Unlock this case brief

Read our student testimonials

Learn more about Quimbee's unique (and proven) approach to achieving great grades at law school.

Quimbee is a company hell-bent on one thing: helping you get an "A" in every course you take in law school, so you can graduate at the top of your class and get a high-paying law job. We're not just a study aid for law students; we're the study aid for law students.

Learn about our approach

Read more about Quimbee
Here's why 517,000 law students have relied on our case briefs:
Written by law professors and practitioners, not other law students. 22,300 briefs, keyed to 984 casebooks. Top-notch customer support.
The right amount of information, includes the facts, issues, rule of law, holding and reasoning, and any concurrences and dissents.
Access in your classes, works on your mobile and tablet. Massive library of related video lessons and high quality multiple-choice questions.
Easy to use, uniform format for every case brief. Written in plain English, not in legalese. Our briefs summarize and simplify; they don't just repeat the court's language.