From our private database of 30,900+ case briefs...
General Trading International, Inc. v. Wal-Mart Stores, Inc.
United States Court of Appeals for the Eighth Circuit
320 F.3d 831 (2003)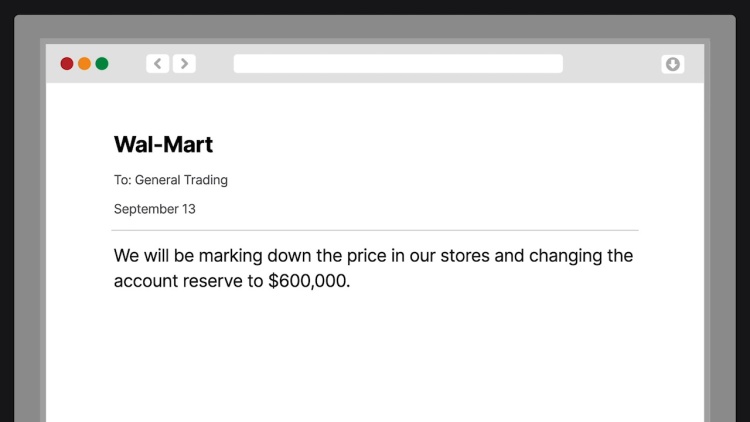 Facts
Beth Gitlin, a seasonal buyer for Wal-Mart, Inc. (Wal-Mart) (defendant), placed an order with General Trading International, Inc. (GTI) (plaintiff) for 250,000 vine reindeer. Upon delivery, Wal-Mart found that many of the reindeers were defective, and cancelled all future shipments. After communications with GTI, Wal-Mart agreed to purchase any reindeer already manufactured, but at a discounted price. Gitlin asked that GTI assent to a withholding of $400,000 for defective-merchandise claims. According to Gitlin, GTI also made an oral agreement to decrease the total balance owed by $200,000 to account for price markdowns resulting from the reindeers' poor quality. On September 30, Gitlin emailed GTI, stating that the reserve would be changed to $600,000. On November 19, Gitlin emailed GTI, stating that $600,000 was on hold, with $200,000 going to markdowns and $400,000 to cover claims. The same day, GTI faxed Gitlin a demand for payment of the whole balance for the reindeer. On November 22, GTI emailed Gitlin an acceptance of the $400,000 withholding. On November 24, GTI expressed that its position was non-negotiable. The parties exchanged numerous emails thereafter, reflecting a dispute about the withholdings. GTI sued Wal-Mart for breach of contract and moved for summary judgment, arguing that the statute of frauds prevented the alleged oral agreement for the $200,000 withholding. The district court granted GTI's motion and denied Wal-Mart's motion for judgment as a matter of law. Wal-Mart appealed, arguing that under the merchants' exception to the statute of frauds, Gitlin's emails constituted confirmatory writings of the $200,000 price-markdown agreement, to which GTI did not timely object.
Rule of Law
Issue
Holding and Reasoning

(Bowman, J.)
What to do next…
Unlock this case brief with a free (no-commitment) trial membership of Quimbee.

You'll be in good company: Quimbee is one of the most widely used and trusted sites for law students, serving more than 552,000 law students since 2011. Some law schools—such as Yale, Berkeley, and Northwestern—even subscribe directly to Quimbee for all their law students.

Unlock this case brief

Read our student testimonials

Learn more about Quimbee's unique (and proven) approach to achieving great grades at law school.

Quimbee is a company hell-bent on one thing: helping you get an "A" in every course you take in law school, so you can graduate at the top of your class and get a high-paying law job. We're not just a study aid for law students; we're the study aid for law students.

Learn about our approach

Read more about Quimbee
Here's why 552,000 law students have relied on our case briefs:
Written by law professors and practitioners, not other law students. 30,900 briefs, keyed to 984 casebooks. Top-notch customer support.
The right amount of information, includes the facts, issues, rule of law, holding and reasoning, and any concurrences and dissents.
Access in your classes, works on your mobile and tablet. Massive library of related video lessons and high quality multiple-choice questions.
Easy to use, uniform format for every case brief. Written in plain English, not in legalese. Our briefs summarize and simplify; they don't just repeat the court's language.