From our private database of 32,100+ case briefs...
V Secret Catalogue, Inc. v. Moseley
United States Court of Appeals for the Sixth Circuit
605 F.3d 382 (2010)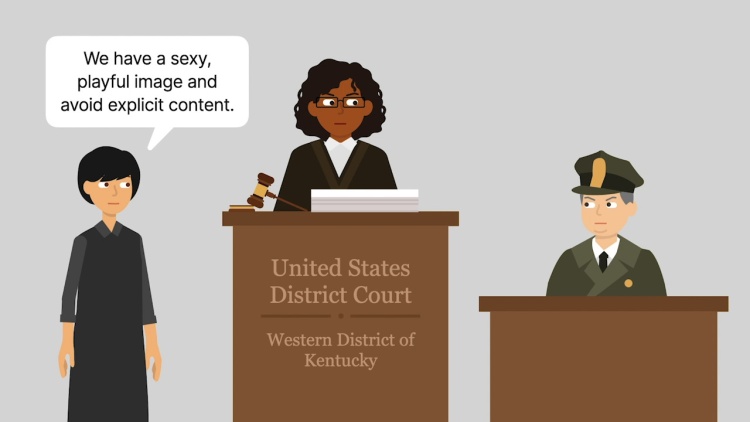 Facts
Victor and Cathy Moseley (defendants) owned a store that sold sex toys in Elizabethtown, Kentucky, named "Victor's Little Secret." V Secret Catalogue, Inc. (Victoria's Secret) (plaintiff) was an international lingerie company that operated under the name "Victoria's Secret." Victoria's Secret sued the Moseleys for trademark dilution by tarnishment, alleging that the tawdry nature of the goods sold at Victor's Little Secret reduced Victoria's Secret's selling power by causing consumers to have less positive associations with the Victoria's Secret mark. At trial, Victoria's Secret submitted an affidavit from a man who saw an ad for Victor's Little Secret and was dismayed to see a store trading on Victoria's Secret's more respectable name to sell such unwholesome merchandise. Additionally, Victoria's Secret submitted a statement from one of its executives explaining that Victoria's Secret tried to maintain a "sexy and playful" image that steered clear of things "sexually explicit or graphic." The Moseleys did not present any evidence that their store's name was unlikely to tarnish Victoria's Secret's mark. The district court found for Victoria's Secret and issued an injunction preventing the Moseleys from using the name Victor's Little Secret for their store. The Moseleys appealed, and the appellate court affirmed. The United States Supreme Court reversed the appellate court, holding that a trademark-dilution claim required a plaintiff to present evidence of actual dilution. Because Victoria's Secret presented no evidence of actual harm or dilution, only a likelihood of harm from the associations that consumers might make with the Victoria's Secret mark, Victoria's Secret had failed to meet its burden of proof. In response to the Supreme Court's ruling, Congress passed the Trademark Dilution Revision Act of 2006 (TDRA). The TDRA made trademark dilution by tarnishment actionable if the trademark holder could show that the defendant's use of the mark was likely to cause dilution of the trademark holder's reputation. On remand, the district court ruled for Victoria's Secret. The Moseleys appealed.
Rule of Law
Issue
Holding and Reasoning

(Merritt, J.)
Dissent
(Moore, J.)
What to do next…
Unlock this case brief with a free (no-commitment) trial membership of Quimbee.

You'll be in good company: Quimbee is one of the most widely used and trusted sites for law students, serving more than 583,000 law students since 2011. Some law schools—such as Yale, Berkeley, and Northwestern—even subscribe directly to Quimbee for all their law students.

Unlock this case brief

Read our student testimonials

Learn more about Quimbee's unique (and proven) approach to achieving great grades at law school.

Quimbee is a company hell-bent on one thing: helping you get an "A" in every course you take in law school, so you can graduate at the top of your class and get a high-paying law job. We're not just a study aid for law students; we're the study aid for law students.

Learn about our approach

Read more about Quimbee
Here's why 583,000 law students have relied on our case briefs:
Written by law professors and practitioners, not other law students. 32,100 briefs, keyed to 984 casebooks. Top-notch customer support.
The right amount of information, includes the facts, issues, rule of law, holding and reasoning, and any concurrences and dissents.
Access in your classes, works on your mobile and tablet. Massive library of related video lessons and high quality multiple-choice questions.
Easy to use, uniform format for every case brief. Written in plain English, not in legalese. Our briefs summarize and simplify; they don't just repeat the court's language.