Rock your law school finals
Watch our video lessons and drill through our practice questions, so you can ace your exams and rise to the top of your class.
See our course coverage
Plans starting at $19/month. Learn more
As seen in: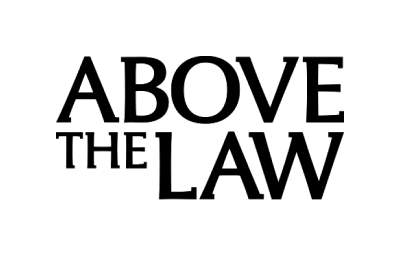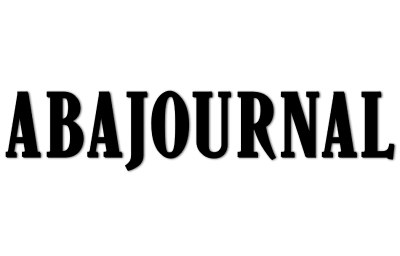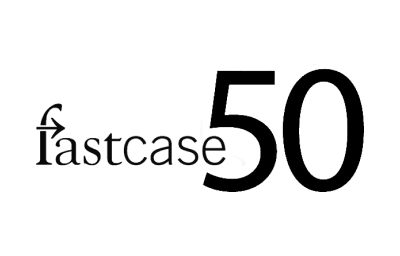 Here's what you'll get when you take a Quimbee course:
On-demand video lessons
Quimbee courses include beautifully designed video lessons that break down even the toughest concepts into bite-sized, entertaining chunks. Whether you're a 1L, 2L, or 3L, Quimbee has a course for you.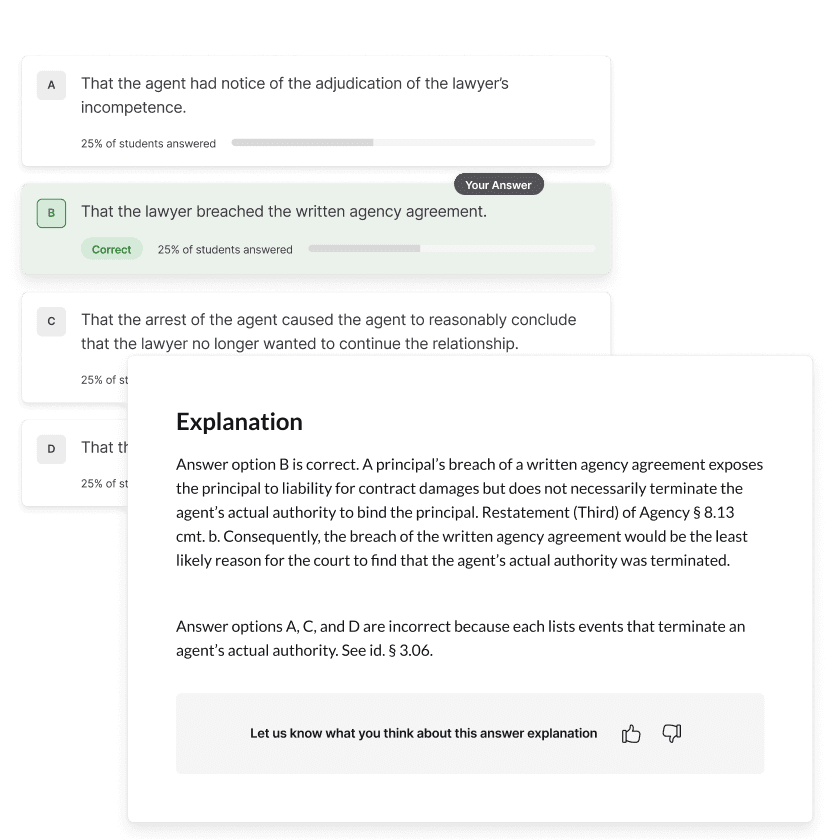 Multiple-choice quizzes with answer explanations
Quimbee courses feature multiple-choice quizzes with answer explanations to ensure that you're retaining what you're learning. If you're unhappy with your quiz results, you always have the option to rewatch a lesson.
Can't watch in one sitting? Bookmark it.
You'll never lose your place in a Quimbee course. Easily bookmark your video lesson so you can take a break and jump right back in.
Closed captioning and transcripts
Whether you're hard of hearing or just feel like you don't already do enough reading, each Quimbee course includes closed-captioned videos and full transcripts.
What law students say about Quimbee
"I used Quimbee's video lectures to study for Wills & Trusts this summer. It was the perfect supplement to my class notes. I made an A in the course and can honestly say I couldn't have done so well without Quimbee!"
"I found Quimbee's videos very helpful. It's kind of like when you're in middle school and they show the Conjunction Junction videos and you're like, "This all makes sense now." That's how I felt about the Quimbee videos. It was a nice little fun way for you to learn something or just remember something that you studied first year of law school and so I really found them super helpful."
"Quimbee has been extremely helpful during my first year. If I fall behind in reading in one class, I can look the brief up and be prepared for class. The lecture videos and accompanying quizzes are my exam prep go-tos!"
"So accurate with the right amount of detail; website is very user-friendly; love the videos and key terms. Love that there are quizzes and transcripts for the videos. Has significantly improved my understanding of the law! :)"
Meet your educators
We believe that the best products are built by teams of extraordinary people doing the best work of their lives.
Frequently asked questions
Why should I take a Quimbee Course?
Quimbee Courses are the most effective way to study legal topics. Quimbee Courses are loved by law students because they break down subjects in an easy-to-understand manner. And unlike your typical talking-head online courses, Quimbee Courses are designed to be engaging and fun (well, at least as fun as the rule against perpetuities can be.)
What can I expect from Quimbee Courses?
Your Quimbee Course will walk you through your chosen subject from beginning to end. Each Quimbee course is broken into a series of lessons—short videos beautifully designed to keep your attention while providing you with everything you need to know to ace your final or the bar exam. Videos can be sped up or slowed down to match your style. Plus, closed captioning and complete transcripts are available for greater accessibility. You'll take a brief quiz after each lesson to ensure you're retaining the most important information. At the end of each quiz, you'll see an explanation of each answer. You'll also see how you stack up against other Quimbee students.
Who authors Quimbee Courses?
Quimbee Courses are authored only by law professors and attorneys with deep subject-matter expertise. Quimbee's authors are thoroughly vetted both for their mastery of the subject and their ability to communicate complex ideas. Learn more about Quimbee's brilliant slate of authors. And every Quimbee Course is subjected to rigorous editorial standards before it ever goes live on the site.
Are Quimbee Courses included in my subscription?
Unlimited access to all Quimbee Courses (meaning all video lessons, transcripts, multiple-choice quizzes and final exams, and practical exercises) is included in Quimbee Gold or with your Quimbee Bar Review or Quimbee MBE Review package.
Do I really need Quimbee Courses in addition to my law school courses?
Quimbee Courses are the ideal supplement to your classes. Keep in mind that every professor has a different method of teaching, and particular topics within a subject may be emphasized or deemphasized by your professor. Let your syllabus help you get max value from your Quimbee Course. Plus, Quimbee Courses are especially helpful if you struggle to follow your professor or need just-in-time or on-demand information about a topic from class.
How can I use Quimbee Courses to ace my law school final exams?
Whether you're doing some last-minute cramming or following along with your class syllabus, Quimbee Courses are the perfect tool to help reinforce your knowledge of important legal principles, landmark cases, and black-letter law. When traditional supplements just won't cut it, and you don't think you could read another page, Quimbee Courses may be exactly what you need to get that A.
Do your courses consist of long, boring lectures?
Not at all. Dull talking-head videos are a thing of the past. Quimbee's videos are short and visually engaging. Plus, all Quimbee videos are designed using the latest in learning science to help you learn as efficiently and effectively as possible. And each video lesson is designed to be under 10 minutes in length (most are between five and eight minutes). You won't be searching for distractions when you take a Quimbee Course.
How many videos and multiple-choice questions does Quimbee offer?
Quimbee is constantly adding new courses, with new videos and multiple-choice questions. Currently, you'll find over 600 video lessons and more than 3,300 multiple-choice questions.
Are Quimbee Courses available on the Quimbee app?
Yes! Every Quimbee course is available on the Quimbee app, so you'll be able to study from anywhere.
Can I get a free trial of Quimbee Courses?
Of course. You can try Quimbee Courses risk-free for 7 days. Cancel anytime. No contracts or commitments.
Sign up
today, and give Quimbee Courses a try!